There's a very good chance you don't have the faintest idea what this section's all about. Well, it's about the fact that...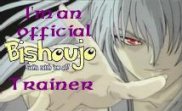 Still confused? What if I tell you that "bishoujo" means "pretty girl" in Japanese? Add the "pocket" principle from Pokémon, and you've got... catchable pretty girls! Hee hee hee... ahem. So why am I doing this? Well, when I caught all 150 Pokémon in Pokémon Red, for me, the slogan went from "Gotta catch 'm all" to "Gotta catch something". At least 'till Gold/Silver came out of course. And besides, I do a lot of stuff that doesn't make much sense to most people. And why not? I just do, okay? If you don't like it... well, you can tell me you don't like it but I more than likely won't give a damn.
Anyway, to "catch" a Bishoujo, all you have to do is visit the website (which you can reach by clicking on my trainer badge up there), choose one from the list, and answer some questions about her correctly. You then get a picture to show your accomplishment to everyone. So, after discovering the site myself, I had at least something to satisfy my need to catch things and stuff them in undersized metal balls. Now all I needed was a place to show off my new acquisitions, and that's what you're looking at right now. Curious as to exactly who I caught? Then by all means, proceed to...
There's also a Gym challenge at the Bishoujo site. Perhaps one day I'll give it a shot, and become a Pocket Bishoujo Master! Oh, and yes girls, there's also a male version, Pocket Bishonen.
And by the way... if you happen to be someone I know, and you're surprised at seeing something like this section, you really don't know me as well as you think you do. :)